Initiative Is Joined by Major Market Participants Like Accenture, Bayer, and Oliver Wyman; Sets Goal of $1B in Funding



紐約, 2023年9月13日 - (亞太商訊) -

The United Nations (UN) World Food Programme (WFP) Innovation Accelerator and Global Blockchain Business Council (GBBC) have signed a Memorandum of Understanding (MOU) as founding partners for their joint initiative, Food for Crisis. This initiative is supported by key organizations, including: Accenture, Bayer, Filecoin Foundation, Fleming Petenko Law, Netlight, Oliver Wyman, and Steptoe & Johnson LLP. Conceived at GBBC's Blockchain Central alongside the United Nations General Assembly (UNGA) in September 2022, Food for Crisis aims to raise, track, and trace donor funds, utilizing Web3 technologies to drive innovation addressing the worsening global hunger crisis. Leveraging the power of blockchain technology to improve the delivery of humanitarian support, Food for Crisis will support a more sustainable future through innovation.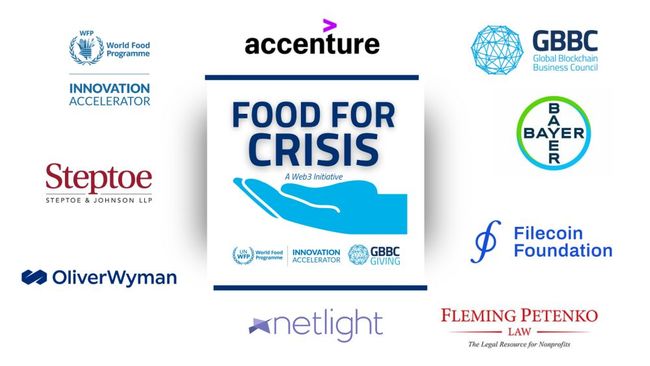 Food for Crisis 9.12 - UN World Food Programme Innovation Accelerator, GBBC Launch Initiative to Combat Global Hunger Using Blockchain Technology


Communities across the world have been devastated by the global food crisis due to the combined effects of ongoing conflicts, economic shocks, and climate extremes, contributing to disruptions in supply chains and soaring fertilizer prices. According to the 2023 State of Food Security (SOFI) report, as many as 783 million people did not know where their next meal would come from. A record number of over 345 million people across 79 countries are facing acute food insecurity. This is an increase of almost 200 million since early 2020 (pre-COVID-19 levels).

Food for Crisis aims to increase awareness of the global food crisis and raise funds to urgently mobilize resources to end hunger at scale. A pilot fund of USD 100 million in donations (in fiat, crypto, or donations in-kind) is the initial goal, with a moonshot target of USD 1 billion. Funds will be distributed to the humanitarian sector for emergency relief operations and the development of innovative and sustainable solutions to help disrupt global hunger.

The WFP Innovation Accelerator and GBBC Giving, GBBC's c3 charitable arm, are working together with the supporting organizations within Food for Crisis to develop a blockchain-based solution to provide an additional level of trust and transparency regarding funds donated for humanitarian aid. The technology will continue to be developed, with a pilot planned for 2024, in countries facing severe food insecurity in need of intensive support amid limited funding.

Bernhard Kowatsch, Head of WFP Innovation Accelerator, says, "345 million people are acutely hungry, on the brink of starvation. I believe that innovative solutions, like Food for Crisis, can attract more donors by raising awareness about hunger, ensuring efficiency and transparent results while empowering individuals with choices. WFP already uses blockchain to enhance collaboration, efficiency, and transparency on cash transfers, digitize smallholder farmer transactions, and provide insurance to farmers. The Food for Crisis initiative seeks to harness this technology for both immediate emergency relief and sustainable innovative solutions."

Sandra Ro, CEO, GBBC, says, "It is a great honor and privilege for GBBC to partner with Nobel Peace Prize winner WFP on Food for Crisis. We believe technology tools including blockchain and digital assets can be utilized to serve the most vulnerable people and accelerate solutions to some of humanity's most pressing and large-scale problems: acute hunger and malnutrition. We can achieve SDG 2, Zero Hunger, together."

For more information and to learn how to get involved, visit gbbcouncil.org/initiatives/giving.

About the World Food Programme (WFP) Innovation Accelerator

About Global Blockchain Business Council (GBBC)

Contact Information
Summer Singh
Director Communications and Policy, Americas, GBBC
summer.singh@gbbcouncil.org
(202) 500-7513

話題 Press release summary


http://www.acnnewswire.com
From the Asia Corporate News Network



Copyright © 2023 ACN Newswire. All rights reserved. A division of Asia Corporate News Network





Latest Press Releases
Introducing CleverAutomations: Ready-to-Use Automation Journeys for Recurring Revenue Growth
Sept 21, 2023, 21:05 HKT/SGT
Hong Kong Dinner in London returns after 4-year hiatus
Sept 21, 2023, 21:00 HKT/SGT
Marrying Innovation and Sustainability: Eviosys Launches Revolutionary Metal Closure 'Horizon' Enabling Brands to Adopt Mono-Material Packaging
Sept 21, 2023, 20:21 HKT/SGT
The 21st CIEP Gathers Global Talents for Future Innovation Development
Sept 21, 2023, 20:00 HKT/SGT
Newly inaugurated Yashobhoomi (IICC Dwarka) to host Trescon's DATE 2023 with Finance Minister Smt. Nirmala Sitharaman amongst the dignitaries
Sept 21, 2023, 17:11 HKT/SGT
Clinical Squared and PlatoHealth Join Forces to Revolutionize Healthcare with Advanced Data Orchestration Powered by AI
Sept 21, 2023, 14:29 HKT/SGT
World Cloud Show and World Cyber Security Summit are set to highlight Indonesia's digital transformation journey
Sept 21, 2023, 14:11 HKT/SGT
Bring Harmony to Your Life with Amazfit Balance
Sept 21, 2023, 14:00 HKT/SGT
Truecaller Unveils a New Brand Identity and Upgraded AI Identity Features for Fraud Prevention
Sept 21, 2023, 14:00 HKT/SGT
Eisai: Release of Dementia Disease Awareness Videos for World Alzheimer's Day, September 21
Thursday, September 21, 2023 11:26:00 AM
More Press release >>